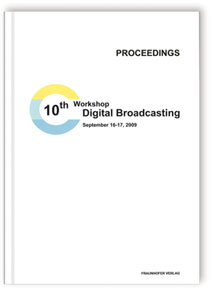 10th Workshop Digital Broadcasting
Proceedings
Hrsg.: TU Ilmenau, Institut für Medientechnik; Fraunhofer IIS, Erlangen; Fraunhofer IDMT, Ilmenau
2009, 170 S., num. illus. a. tab., Softcover
Sprache: Englisch
Fraunhofer Verlag
ISBN 978-3-8396-0054-2
Inhalt
The 10th event of the annual .Workshop Digital Broadcasting. at the Technical University of Ilmenau took place in September 2009.

Main topics in the workshop were: Satellite Radio in L-Band (ETSI DR), Digital Radio (DAB, DAB * DMB), Mobile TV, Mobile Broadcasting in the AM bands, Digital Broadcasting in VHF bands, New Technologies for Consumer Terminal Devices etc.

The proceedings contain all papers of the workshop.