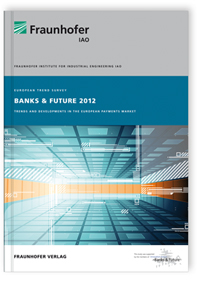 Banks & Future 2012
Trends and Development in the European Payment Market
Claus-Peter Praeg, Michal Polasik, Bas Peeters, Karolina Przenajkowska, Gabriele Korge
Hrsg.: Dieter Spath; Fraunhofer IAO, Stuttgart
2012, 44 S., num. mostly col. illus., Softcover
Sprache: Englisch
Fraunhofer Verlag
ISBN 978-3-8396-0491-5
Inhalt
Dieter Spath (Ed.), Praeg, Claus-Peter; Polasik, Michal; Peeters, Bas; Przenajkowska, Karolina; Korge, Gabriele
Based on the responses of banks from fifteen European countries, the European Trend Survey "Banks & Future 2012" identifies the challenges and key trends in the European payment market faced by European banks. It gives an outlook on future areas for innovations and developments, such as cards business, outsourcing, supply and financial chain integration, the International Payment Framework (IPF) and reach for payment transactions. Highlighted are challenges that come with the Single EURO Payment Area (SEPA).
– nicht mehr lieferbar –
* Alle Preise verstehen sich inkl. der gesetzlichen MwSt. Lieferung deutschlandweit und nach Österreich versandkostenfrei. Informationen über die Versandkosten ins Ausland finden Sie hier.