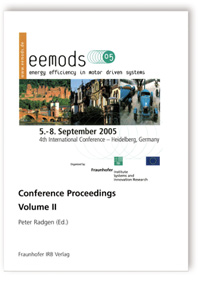 EEMODS 05 Energy Efficiency in Motor Driven Systems
Conference Proceedings Volume 2
Peter Radgen
Hrsg.: Peter Radgen; Fraunhofer ISI, Karlsruhe
2005, 363 S., num. illus. a. tab., Softcover
Sprache: Englisch
Fraunhofer IRB Verlag
ISBN 978-3-8167-6905-7
Inhalt
Following the success of the first three meetings in Lisbon (1996), London (1999), and Treviso (2002), the European Commission and the Fraunhofer Institute for Systems and Innovation Research are organising the 4th International Conference on Energy Efficiency in Motor Driven Systems to be held in Heidelberg, Germany September 5 to 8, 2005. The previous EEMODS events have been very successful in attracting an international and distinguished audience, representing a wide variety of stakeholders in the development, manufacturing and promotion of energy-efficient motor systems.
EEMODS.05 will provide a forum to discuss and debate the latest developments in the impacts of electrical motor systems on energy and the environment, the policies and programmes adopted and planned, and the technical and commercial advances made in the dissemination and penetration of energy-efficient motor systems.
The conferences technical focus is on industrial motors and motor systems, where the replication and savings potentials are the greatest.
– nicht mehr lieferbar –
Publikationslisten zum Thema:
Fraunhofer ISI
,
electric motor
,
Elektromotor
,
energy efficiency system
,
energieeffizientes System
,
fan
,
Ventilator
,
pump
,
Pumpe
,
compressor
,
Kompressor
,
Energieversorgungsunternehmen
,
energy company
,
Hersteller
,
Industrie
,
motor user
,
Motorenanwender
,
* Alle Preise verstehen sich inkl. der gesetzlichen MwSt. Lieferung deutschlandweit und nach Österreich versandkostenfrei. Informationen über die Versandkosten ins Ausland finden Sie hier.