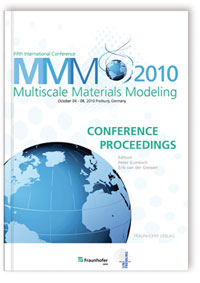 Proceedings of the Fifth International Conference Multiscale Materials Modeling MMM2010
October 4-8, 2010, Freiburg, Germany
Hrsg.: Peter Gumbsch, Erik van der Giessen; Fraunhofer IWM, Freiburg/Brsg.
2010, 1005 S., num. pictures and tables, Softcover
Sprache: Englisch
Fraunhofer Verlag
ISBN 978-3-8396-0166-2
Inhalt
Multiscale modeling of materials promotes the development of predictive materials research tools to understand the structure and properties of materials at all scales. The field strives to use these predictive tools to design and process materials with novel properties. Multiscale modeling of materials transcends the boundaries between materials science, mechanics, and physics and chemistry of materials and is creating opportunities for making materials predictions with unprecedented levels of rigor and accuracy.