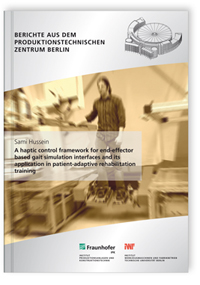 A haptic control framework for end-effector based gait simulation interfaces and its application in patient-adaptive rehabilitation training
Berichte aus dem Produktionstechnischen Zentrum Berlin
Sami Hussein
Hrsg.: Jörg Krüger; Fraunhofer IPK, Berlin
2012, 144 S., num. illus. and tab., Softcover
Sprache: Englisch
Berlin, TU, Diss., 2012
Fraunhofer Verlag
ISBN 978-3-8396-0464-9

kostenloser Download als PDF-Datei
Inhalt
The use of robots to assist therapy of neurological motor disfunctions, such as limited mobility, is an emerging research field.
This book provides the first systematic application of a haptic control framework and assist as needed training paradigms to so called end-effector based gait simulation interfaces with a natural walking workspace, which fully carry the operator's bodyweight.
The developed haptic control framework provides a unified controller architecture and a design method based on robust adaptive control. Thus it allows for the stable interaction with virtual training environments. The modular virtual environments combine a walking scenario with an adjustable assistance along the desired training motion.
The framework is the basis to develop and implement compliant and patient-adaptive training strategies and, more generally speaking, haptic interaction on end-effector based gait interfaces.
The prototype was successfully implemented and tested on the walking simulator HapticWalker.
– –
* Alle Preise verstehen sich inkl. der gesetzlichen MwSt. Lieferung deutschlandweit und nach Österreich versandkostenfrei. Informationen über die Versandkosten ins Ausland finden Sie hier.