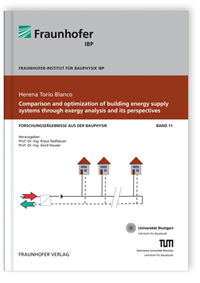 Comparison and optimization of building energy supply systems through exergy analysis and its perspectives
Forschungsergebnisse aus der Bauphysik
, Band 11
Herena Torío Blanco
Hrsg.: Fraunhofer IBP, Kassel
2012, 216 S., num. illus. and tab., Softcover
Sprache: Englisch
München, Diss., TU, 2012
Fraunhofer Verlag
ISBN 978-3-8396-0452-6

kostenloser Download als PDF-Datei
Inhalt
Growing concerns on environmental problems related to current energy use have emphasized the importance of "energy-saving measures" and the necessity for an increased efficiency in all forms of energy utilization. Being responsible for around 40% of the final energy use in Germany, buildings are major contributors to energy related problems and a sector where a more rational and efficient energy use is absolutely necessary.
By showing the thermodynamic efficiency of an energy system, exergy analysis is expected to be a valuable tool for developing and designing more efficient energy supply systems in buildings, similarly as it has contributed to raise the efficiency of power plants. In this thesis, the usability and added value of exergy analysis applied to different building energy systems is investigated. Exergy analysis is, herefore, compared to conventional primary energy assessment and the different results and conclusions obtained from both methods are thoroughly studied and discussed.
– –
Publikationslisten zum Thema:
Fraunhofer IBP
,
Thermodynamik
,
Systemvergleich
,
Energieversorgungssystem
,
Energieverwendung(rationell)
,
Exergie
,
Energieeffizienz
,
Effizienzsteigerung
,
Analysemethode
,
Primärenergieverbrauch
,
Verbrauchsmessung
,
Planungswerkzeug
,
* Alle Preise verstehen sich inkl. der gesetzlichen MwSt. Lieferung deutschlandweit und nach Österreich versandkostenfrei. Informationen über die Versandkosten ins Ausland finden Sie hier.