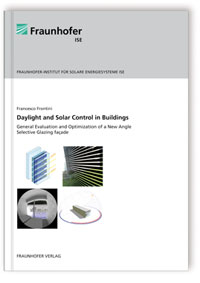 Daylight and Solar Control in Buildings
General Evaluation and Optimization of a New Angle Selective Glazing
Francesco Frontini
Hrsg.: Fraunhofer ISE, Freiburg/Brsg.
2011, 143 S., num. illus. a. tab., Softcover
Sprache: Englisch
Milano, Politecnico, Diss., 2009
Fraunhofer Verlag
ISBN 978-3-8396-0238-6

kostenloser Download als PDF-Datei
Inhalt
A new angle-selective see through building integrated photovoltaic façade presented here. The façade combines four important tasks in one element: solar control, glare protection, visual contact and electricity generation.
Mathematical analysis and simulations with radiance are performed to optimize the geometry and to assess the visual transmission of the new window.
In order to simulate the new façade in building energy simulation programme a new method for modelling the total solar energy transmittance is presented. The new black-box-model (BBM) is implemented into ESP-r software and is validated.
The BBM is used to assess the impact of modelling accurately the g-value of complex façade within building simulation.
Autoreninfo
Francesco Frontini, PhD, MSc Eng graduated in Building Engineering and Architecture at Politecnico di Milano, he received a PhD cum laude in Building Engineering in 2009. His main theme is the technological innovation, in particular the study of new daylighting systems for sustainability and solar control. The author is an expert in building and daylighting simulation. He has collaborated with many engineering and architect offices as project manager. Research activity is supported by experimental work on the design of actual buildings. Since 2006 he has made lectures in the field of Technological Design for the Master of Science in Building Engineering at Politecnico di Milano. He was working as researcher in the Solar façades group at Fraunhofer ISE where he gathered experience in Building simulation and in Building Integrated Photovoltaic (BIPV) solution. Nowadays he is the head of the BIPV group of Institute for Applied Sustainability to the Built Environment (SUPSI - Lugano, CH).
– –
* Alle Preise verstehen sich inkl. der gesetzlichen MwSt. Lieferung deutschlandweit und nach Österreich versandkostenfrei. Informationen über die Versandkosten ins Ausland finden Sie hier.