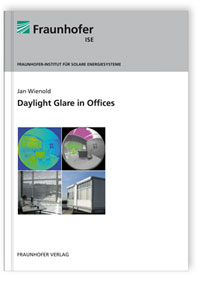 Daylight Glare in Offices
Jan Wienold
Hrsg.: Fraunhofer ISE, Freiburg/Brsg.
2010, 132 S., num. illus., Softcover
Sprache: Englisch
Fraunhofer Verlag
ISBN 978-3-8396-0162-4

kostenloser Download als PDF-Datei
Inhalt
The influence of discomfort glare is often underestimated in daylighting design and in the use of buildings. Many façade solutions are intended to increase the amount of daylight penetrating the room and creating a glare free environment at the same time. But as soon as a planning process comes to the point to quantify the glare freeness of a solution, the question of suitable glare measure arises.
To analyze the reliability of existing glare rating methods, user assessments under real daylight conditions in office like test rooms are designed and carried out at two sites using different Venetian blinds and a foil system. For the evaluation of high dynamic digital images, a new tool "evalglare" is developed.
The existing glare rating models show moderate or poor correlations with the user's perception of glare. The window luminance as single glare descriptor exhibits no correlation at all.
On the basis of the user assessments a new daylight glare rating - the daylight glare probability DGP - is developed and validated. The DGP describes the probability that a person is disturbed by daylight glare.
The DGP is also used as a basic glare descriptor for new climate based glare evaluation methods, which enables an assessment of daylight glare for a full year data set within a design process. For the evaluation, a glare rating classification based on simulations and frequency distributions is proposed.