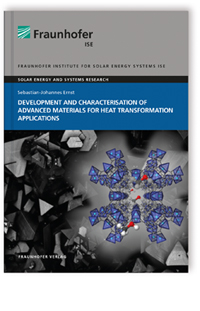 Development and Characterisation of Advanced Materials for Heat Transformation Applications
Solare Energie- und Systemforschung
Sebastian-Johannes Ernst
Hrsg.: Fraunhofer ISE, Freiburg/Brsg.
2019, 233 S., num., mostly col. illus. and tab., Softcover
Sprache: Englisch
Kaiserslautern, Univ., Diss., 2018
Fraunhofer Verlag
ISBN 978-3-8396-1439-6
Inhalt
Thermally driven adsorption processes e.g., sorption based dehumidification or adsorption heat pumps offer a huge potential to reduce buildings related emissions of greenhouse gases. Within this thesis, different challenges on a material level were addressed.
The first focus was set on the development and characterisation of new materials and the modification of conventional adsorbents, respectively. A selection of metal-organic frameworks (MOFs) was synthesised, different large-pore zeolites and the layered clay bentonite were modified. All materials were investigated with respect to their water adsorption characteristics and evaluated for different applications. The second part focuses on the working pair HKUST-1/methanol. As to this, a coating process was scaled to 3D structures and the adsorption of methanol on the produced composites was investigated experimentally and by simulation.
The Fraunhofer Institute for Solar Energy Systems ISE is the largest solar energy research institute in Europe. It creates technological foundations for supplying energy efficiently and on an environmentally sound basis in industrialised, threshold and developing countries. With its research focusing on energy conversion, energy efficiency, energy distribution and energy storage, it contributes to broad application of new technology.