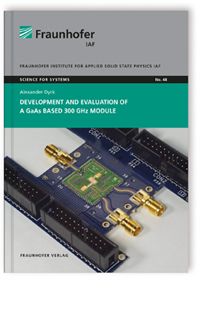 Development and evaluation of a GaAs based 300 GHz module
Science for Systems
, Band 48
Alexander Dyck
Hrsg.: Oliver Ambacher; Fraunhofer IAF, Freiburg
2021, 136 S., num., mostly col. illus. and tab., Softcover
Sprache: Englisch
Freiburg, Univ., Diss., 2020
Fraunhofer Verlag
ISBN 978-3-8396-1691-8

kostenloser Download als PDF-Datei
Inhalt
Radar based technologies become increasingly important in security applications for today's connected industry and society. The utilization of millimeter waves for these systems, in contrast to conventional wavelengths, offer the advantage of being reflected by objects a few millimeters in size, while still being able to penetrate particle clouds and achieving very high resolutions. However, the construction of modules and the design of antennas becomes more and more laborious due to increasing accuracy demands.
This thesis shows the design and manufacture of sub-terahertz antennas and individual front-end modules. Simulations and experimental results of the antennas are presented. Several concepts are proposed and discussed for on-chip and off-chip antennas. For the final system, a simulation tool has been developed which is used to review and investigate the signal's integrity. Measurements characterize the antennas and modules. A transmitter module and a radar module are presented which can be utilized as front-end components. Due to their construction, they can be placed like regular surface mount packages on printed circuit boards.
* Alle Preise verstehen sich inkl. der gesetzlichen MwSt. Lieferung deutschlandweit und nach Österreich versandkostenfrei. Informationen über die Versandkosten ins Ausland finden Sie hier.