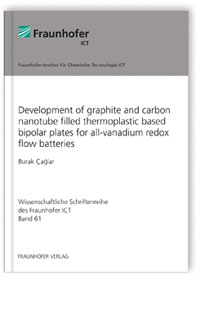 Development of graphite and carbon nanotube filled thermoplastic based bipolar plates for all-vanadium redox flow batteries
Wissenschaftliche Schriftenreihe des Fraunhofer ICT
, Band 61
Burak Caglar
Hrsg.: Fraunhofer ICT, Pfinztal
2014, 121 S., num., mostly col. illus. and tab., Softcover
Sprache: Englisch
Karlsruhe, Univ., Diss., 2014
Fraunhofer Verlag
ISBN 978-3-8396-0794-7

kostenloser Download als PDF-Datei
Inhalt
Redox flow batteries are promising energy storage and conversion systems for stationary applications. Performance of bipolar plates as well as their cost and weight has important contribution to the development of redox flow batteries.
Electrically conductive polymer composites are alternatives to graphite and metallic bipolar plates. These composites combine process benefits of polymers with electrically conductive nature of carbonaceous fillers and exhibit advantages of light-weight, ease of machining and good corrosion resistance. Bipolar plates require high electrical conductivity, good mechanical properties and chemical stability. In order to achieve these goals, thermoplastics and carbon derivatives were chosen as matrix material and filler respectively. Carbon nanotube based composites possessed improved electrical conductivities and mechanical strength. Processing of highly filled composites was facilitated by using additives during melt mixing.
Produced bipolar plates were tested in all-vanadium redox flow battery single-cell in order to evaluate their potential to be used in up-scale applications.