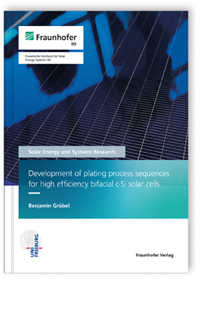 Development of plating process sequences for high efficiency bifacial c-Si solar cells
Solare Energie- und Systemforschung / Solar Energy and Systems Research
Benjamin Grübel
Hrsg.: Fraunhofer ISE, Freiburg/Brsg.
2023, 232 S., num., mostly col. illus. and tab., Softcover
Sprache: Englisch
Freiburg, Univ., Diss. 2022
Fraunhofer Verlag
ISBN 978-3-8396-1871-4
Inhalt
The metallization of tunnel oxide and passivated contact (TOPCon) solar cells requires low contact resistances while avoiding an increased contact recombination. Laser ablation and electroplating metal deposition of an Ni/Cu metal stack bears the potential to fulfill these requirements while reducing the material costs compared to screen-printing by replacing costly silver pastes with plated Cu. In this thesis, an industrially feasible electroplating process sequence is developed to metallize bifacial TOPCon solar cells. Therefore, a simulation model is developed to gain fundamental understanding about electrical characteristics during bifacial plating of bifacial c-Si solar cells. A specific contact unit is designed to electrically contact the TOPCon solar cells. The optimized plating sequence demonstrates a certified conversion efficiency of 23.84% measured at Fraunhofer ISE CalLab for industrial bifacial TOPCon solar cells outperforming the screen-printed references by nearly 0.4%abs.