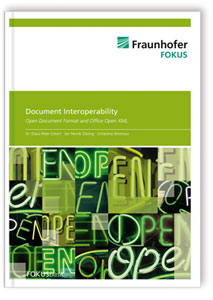 Document Interoperability. Open Document Format and Office Open XML
FOKUSbasic
Klaus-Peter Eckert, Jan Henrik Ziesing, Ucheoma Ichionwu
Hrsg.: Fraunhofer FOKUS, Berlin
2009, 87 S., num. mostly col. illus., tab., Softcover
Sprache: Englisch
Fraunhofer Verlag
ISBN 978-3-8396-0047-4

kostenloser Download als PDF-Datei
Inhalt
OASIS Open Document Format ODF 1.0 (ISO/IEC 26300) and Office Open XML (ISO/IEC 29500) are both open document formats for saving and exchanging word processing documents, spreadsheets and presentations. Both formats are XML based but differ in design and scope.
The White Paper "Document Interoperability; Open Document Format and Office Open XML" analyzes how both standards implement the most important document features, and if and how these features can be translated between the two formats.
The White Paper targets users of both document formats as well as template designers whose competences cut across the spectrum of XML and XML-related technologies which directly or remotely deal with one or both of the two standards. The Paper will be of great assistance to those seeking to exchange documents between formats, to extract data from or import data into documents, or to write applications supporting the two formats.
– –
* Alle Preise verstehen sich inkl. der gesetzlichen MwSt. Lieferung deutschlandweit und nach Österreich versandkostenfrei. Informationen über die Versandkosten ins Ausland finden Sie hier.