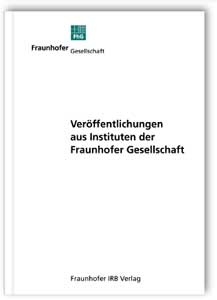 Effects of Air Contaminants on the Respiratory Tract - Interpretations from Molecules to Meta Analysis
Uwe Heinrich
Hrsg.: Uwe Heinrich; Fraunhofer ITEM, Hannover
2004, 454 S., zahlr. Abb. u. Tab., Softcover
Sprache: Englisch
Fraunhofer IRB Verlag
ISBN 978-3-8167-6478-6
Inhalt
The International Inhalation Symposia, begun in 1987 and held biennially in Hannover, Germany, are sponsored by the Fraunhofer Institute of Toxicology and Experimental Medicine ITEM and the National Health and Environmental Effects Research Laboratory, U.S. Environmental Protection Agency (as well as, until 1999, the International Life Sciences Institute (ILSI)).
Effects of Air Contaminants on the Respiratory Tract - Interpretations from Molecular to Meta Analysis represents scientific work presented at the 9th International Inhalation Symposium, covering new developments in this field of research.
This book focuses on particles and complex mixtures, disposition of inhaled particles and systemic effects, effects of pollutants on pulmonary defenses against infectious agents (organisms), effects of air contaminants in vitro, as well as transcriptional responses to environmental stressors. A worldwide panel of recognized experts contributed chapters to this comprehensive exploration of the subject.
– nicht mehr lieferbar –
* Alle Preise verstehen sich inkl. der gesetzlichen MwSt. Lieferung deutschlandweit und nach Österreich versandkostenfrei. Informationen über die Versandkosten ins Ausland finden Sie hier.