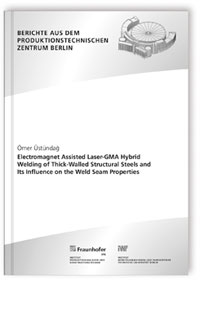 Electromagnet Assisted Laser-GMA Hybrid Welding of Thick-Walled Structural Steels and Its Influence on the Weld Seam Properties
Berichte aus dem Produktionstechnischen Zentrum Berlin
Ömer Üstündag
Hrsg.: Michael Rethmeier; Fraunhofer IPK, Berlin; TU Berlin, Institut für Werkzeugmaschinen und Fabrikbetrieb -IWF-
2023, 178 S., num., mostly col. illus. and tab., Softcover
Sprache: Englisch
Berlin, TU, Diss., 2023
Fraunhofer Verlag
ISBN 978-3-8396-1967-4
Inhalt
Currently, thick-walled steels are mostly joined using arc-based welding processes in the industry. The industrial use of alternative welding processes, such as the laser-gma hybrid welding process, are limited due to some process-specific challenges, such as the gravity-induced droplet formation at the weld root, limited gap bridgeability and a high sensitivity to manufacturing tolerances, or poor mechanical properties due to high cooling rates.
In this work, laser-gma hybrid welding with contactless electromagnet backing is presented. With this innovative process, it was possible to join plates with a thickness up to 30 mm using a 20-kW fiber laser. In addition, the gap bridgeability could be significantly increased. The mechanical properties such as the tensile strength and Charpy impact strength could also be increased. With the implementation of this process in industry, e.g. in shipbuilding or wind tower fabrication, the productivity can be significantly increased compared to the arc-based welding processes, such as the submerged arc welding.
* Alle Preise verstehen sich inkl. der gesetzlichen MwSt. Lieferung deutschlandweit und nach Österreich versandkostenfrei. Informationen über die Versandkosten ins Ausland finden Sie hier.