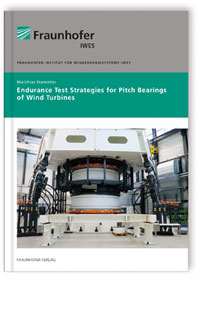 Endurance Test Strategies for Pitch Bearings of Wind Turbines
Matthias Stammler
Hrsg.: Fraunhofer IWES, Bremerhaven
2021, 144 S., num., mostly col. illus. and tab., Softcover
Sprache: Englisch
Hannover, Univ., Diss., 2020
Fraunhofer Verlag
ISBN 978-3-8396-1642-0
Inhalt
Modern wind turbines turn their blades along their primary axis to control the conversion of aerodynamic power. The pitch bearings connect the rotor hub of the turbine with the blades and allow this rotation. The capital costs of the bearings and even more the costs connected to failures make it paramount to mitigate operational risks of new designs. As there are no established calculation methods for the most dominant damage modes of pitch bearings, bearing tests are of critical value to this risk mitigation. This work covers the design of endurance test runs for pitch bearings. A true endurance test run of pitch bearings should result in a profound evaluation of the risk of failure during the lifetime of the wind turbine. This goal makes the design of an endurance run a substantial task. It gets even more challenging when such a test run needs to fit into the overall turbine design process, both in matters of timing and finance. This work results in a test run profile that covers wear and fatigue damage modes of the bearing rollers and raceways, among others. It also covers the development and commissioning of the test environment for different bearing sizes.
Publikationslisten zum Thema:
Fraunhofer IWES
,
Wind Energy
,
Slewing Bearing
,
Endurance Test
,
Individual Pitch Control
,
Raceway Wear
,
pitch
,
bearing
,
wind
,
Turbine
,
* Alle Preise verstehen sich inkl. der gesetzlichen MwSt. Lieferung deutschlandweit und nach Österreich versandkostenfrei. Informationen über die Versandkosten ins Ausland finden Sie hier.