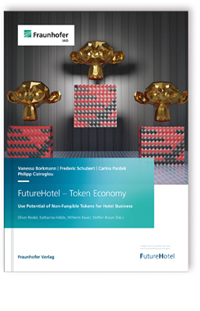 FutureHotel - Token Economy
Use Potential of Non-Fungible Tokens for Hotel Business
Vanessa Borkmann, Frederic Schubert, Carina Pardek, Philipp Ciziroglou
Hrsg.: Oliver Riedel, Katharina Hölzle, Wilhelm Bauer, Steffen Braun; Fraunhofer IAO
2023, 108 S., num., mostly col. illus. and tab., E-Book
Sprache: Englisch
Fraunhofer Verlag
ISBN 978-3-8396-1928-5
Inhalt
This report discusses the functionality and potential of Non-Fungible Tokens for various sectors in the context of token economy, crypto, blockchain and the Metaverse. It is intended to clarify for which purposes the characteristics of Non-Fungible Tokens can be profited from and which developments can be expected in the future due to the NFT technology. The presented research insights are a result of the FutureHotel Innovation Network under the leadership of Fraunhofer IAO.
The report covers the following topics:
- Envisioning NFTs in a token economy
- Introduction into Non-Fungible Tokens
- Explaining NFT in the context of blockchain, web3, highlighting controversies, sustainability and trends
- NFT use cases
- NFT applications in different business segments
- NFT applications in a FutureHotel
- Overview of relevant studies and books
Readers should be able to draw concrete conclusions for themselves and their companies with immediate relevance for action. They should also be slowly introduced to this complex topic which will undoubtedly become increasingly important in the upcoming years.
* Alle Preise verstehen sich inkl. der gesetzlichen MwSt. Lieferung deutschlandweit und nach Österreich versandkostenfrei. Informationen über die Versandkosten ins Ausland finden Sie hier.