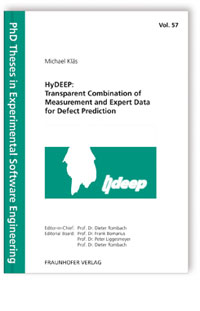 HyDEEP: Transparent Combination of Measurement and Expert Data for Defect Predictions
PhD Theses in Experimental Software Engineering
, Band 57
Michael Kläs
Hrsg.: Fraunhofer IESE
2017, 296 S., num. illus. and tab., Softcover
Sprache: Englisch
Kaiserslautern, TU, Diss., 2016
Fraunhofer Verlag
ISBN 978-3-8396-1149-4
Inhalt
In order to provide software of requested quality on time and in budget, it is essential to apply quality assurance (QA) activities such as reviews and tests. However, planning such activities and controlling their execution are challenging tasks for most companies. Thus, this thesis introduces and evaluates a novel approach, which combines commonly available data and expert knowledge to support the planning and controlling of QA activities.
Publikationslisten zum Thema:
Fraunhofer IESE
,
systems analysis & design
,
industrial applications of scientific research & technological innovation
,
software engineering
,
software quality assurance
,
defect prediction
,
Softwaretechnik
,
Softwarequalitätssicherung
,
Fehlervorhersage
,
researchers and practitioners in software engineering
,
quality managers
,
project managers
,
software testers
,
* Alle Preise verstehen sich inkl. der gesetzlichen MwSt. Lieferung deutschlandweit und nach Österreich versandkostenfrei. Informationen über die Versandkosten ins Ausland finden Sie hier.