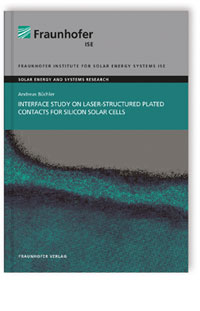 Interface Study on Laser-structured Plated Contacts for Silicon Solar Cells
Solare Energie- und Systemforschung / Solar Energy and Systems Research
Andreas Büchler
Hrsg.: Fraunhofer ISE, Freiburg/Brsg.
2019, 279 S., num., mostly col. illus. and tab., Softcover
Sprache: Englisch
Freiburg/Br., Univ., Diss., 2019
Fraunhofer Verlag
ISBN 978-3-8396-1489-1
Inhalt
Plating of a Ni-Cu stack on laser-structured passivation layer openings is a low-cost metallization approach for silicon solar cells. This work investigates the correlation of microscopic interface properties and contact resistance and mechanical adhesion. Advanced micro characterization methods are applied. Based on the results a model is introduced on how to realize adhesion. The results indicate an important influence of interfacial oxide on the contact resistance and its decrease during post-plating annealing.