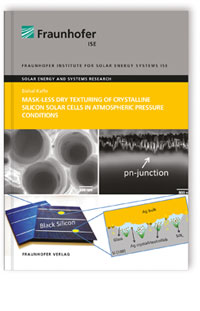 Mask-less Dry Texturing of Crystalline Silicon Solar Cells in Atmospheric Pressure Conditions
Solare Energie- und Systemforschung
Bishal Kafle
Hrsg.: Fraunhofer ISE, Freiburg/Brsg.
2018, 345 S., num. illus. and tab., Softcover
Sprache: Englisch
Fraunhofer Verlag
ISBN 978-3-8396-1268-2
Inhalt
An alternative atmospheric pressure dry texturing process that utilizes F2-Si etching to form sub-micron anti-reflective structures on silicon surface is investigated. Influence of sub-micron texturing on different solar cell process steps is studied in detail, and optimizations are performed to demonstrate significant improvements in conversion efficiency of multicrystalline silicon solar cells compared to the state-of-the-art texturing methods.