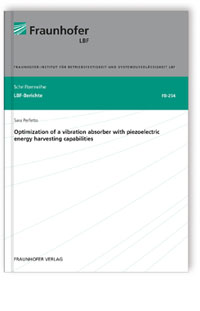 Optimization of a vibration absorber with piezoelectric energy harvesting capabilities
Schriftenreihe LBF-Berichte
, Band FB-254
Sara Perfetto
Hrsg.: Fraunhofer LBF, Darmstadt
2018, 174 S., num., mostly col. illus. and tab., Softcover
Sprache: Englisch
Darmstadt, TU, Diss., 2018
Fraunhofer Verlag
ISBN 978-3-8396-1396-2
Inhalt
Vibration represents a real issue in many engineering fields and the consequences go from discomfort to catastrophic events. To guarantee structural reliability, enhanced comfort and cost savings vibration absorbers have been intensively studied: they reduce the vibration by transferring and dissipating mechanical energy. However, a new trend is rather to convert and not dissipate the energy e.g. converting mechanical-to-electrical energy. Low powered sensors, as those employed for structural health monitoring (SHM), are normally supplied by batteries that require periodic replacement. In the recent years the field of energy harvesting has received great attention: smart materials as piezoelectric transducers can be used for energy conversion to autonomously supply sensors for SHM. This work presents the optimization of a vibration absorber that integrates piezoelectric transducers for energy conversion, bringing together two promising and innovative research areas: vibration reduction and energy harvesting. An integrated device allows for simultaneous improvement of structural reliability and autonomous sensors supply for SHM, playing a fundamental role in modern engineering.
Publikationslisten zum Thema:
Fraunhofer LBF
,
mechanical engineering
,
engines & power transmission
,
energy harvesting
,
vibration reduction
,
rotating system
,
energy conversion
,
piezoelectric transducer
,
Adaptronik
,
Maschinenbau
,
Energieumwandlung
,
Schwingungsreduzierung
,
rotierendes System
,
Ingenieur
,
structural durability
,
vibration
,
mechanical-to-electrical
,
structural health monitoring
,
smart material
,
piezoelectric
,
* Alle Preise verstehen sich inkl. der gesetzlichen MwSt. Lieferung deutschlandweit und nach Österreich versandkostenfrei. Informationen über die Versandkosten ins Ausland finden Sie hier.