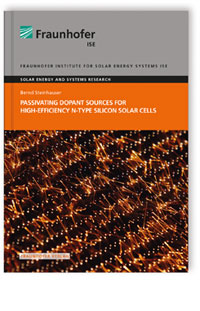 Passivating Dopant Sources for High-Efficiency n-type Silicon Solar Cells
Solare Energie- und Systemforschung / Solar Energy and Systems Research
Bernd Steinhauser
Hrsg.: Fraunhofer ISE
2017, 289 S., num., mostly col. illus. and tab., Softcover
Sprache: Englisch
Konstanz, Univ., Diss., 2017
Fraunhofer Verlag
ISBN 978-3-8396-1207-1

kostenloser Download als PDF-Datei
Inhalt
Passivated emitter and rear locally diffused silicon solar cells have proven to offer a high efficiency potential, but there were doubts about the industrial feasibility due to the complex structuring being required for device fabrication. The PassDop concept introduced an approach that allowed reducing the number of process steps significantly by using doped passivation layers in combination with a laser process.
The first topic of this work is focused on the development and characterization of the multifunctional layers that form a central part of this concept. Here new layers based on a-SiNx:P are introduced. It is shown that layers for both low temperature device fabrication as well as firing stable layers (for screen printed contacts) are viable.
The next part aims for an improved understanding of the properties and implications of the local laser processing. The laser spots are analyzed with focus on doping profiles, impurities as well as minority carrier recombination.
Finally the transfer of the concept to the device level is described demonstrating that with this industrially feasible approach high efficiency solar cells can be fabricated achieving efficiencies up to 23.5 percent.
– –
Publikationslisten zum Thema:
Fraunhofer ISE
,
alternative energy source
,
renewable energy source
,
Angewandte Physik
,
technology
,
Alternative Energiequelle
,
Erneuerbare Energiequelle
,
Alternative Technologie
,
Erneuerbare Technologie
,
Forschung
,
Silicium
,
Photovoltaik
,
Silicium
,
Oberflächenpassivierung
,
Laserdotieren
,
* Alle Preise verstehen sich inkl. der gesetzlichen MwSt. Lieferung deutschlandweit und nach Österreich versandkostenfrei. Informationen über die Versandkosten ins Ausland finden Sie hier.