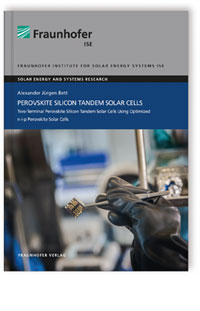 Perovskite Silicon Tandem Solar Cells
Two-Terminal Perovskite Silicon Tandem Solar Cells Using Optimized n-i-p Perovskite Solar Cells
Solare Energie- und Systemforschung / Solar Energy and Systems Research
Alexander Jürgen Bett
Hrsg.: Fraunhofer ISE, Freiburg/Brsg.
2020, 174 S., num., mostly col. illus. and tab., Softcover
Sprache: Englisch
Freiburg, Univ., Diss. 2020
Fraunhofer Verlag
ISBN 978-3-8396-1662-8
Inhalt
Single junction solar cells are limited by spectral losses. Thermalization losses can be reduced with tandem solar cells. In this thesis perovskite solar cells in the regular n-i-p architecture are optimized for the use as top solar cells in combination with silicon bottom solar cells. A low-temperature process is developed for the titanium dioxide electron contact. Additionally, a soft sputter process is optimized for indium tin oxide allowing for direct deposition of this transparent conductive oxide on the hole contact without any buffer layer. The optimized perovskite solar cells are combined with silicon heterojunction solar cells. These monolithic tandem devices reach power conversion efficiencies up to 23.4%.