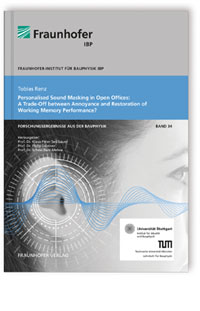 Personalised Sound Masking in Open Offices: A Trade-Off between Annoyance and Restoration of Working Memory Performance?
Forschungsergebnisse aus der Bauphysik
, Band 34
Tobias Renz
Hrsg.: Klaus Sedlbauer, Philip Leistner, Schew-Ram Mehra; Fraunhofer IBP, Stuttgart
2019, 295 S., num. mostly col. illus., Softcover
Sprache: Englisch
Stuttgart, Univ., Diss., 2019
Fraunhofer Verlag
ISBN 978-3-8396-1462-4
Inhalt
Speech privacy is one of the most crucial, yet least satisfying aspects of the indoor environmental quality in open-plan offices. Electronic sound masking has been suggested as a method to create a sound field that can cover distracting background speech. However, commercially available sound masking systems are rarely used in Germany because they are usually perceived as annoying and not accepted by German office workers. This work analyses three aspects of personalised sound masking: the effect of different masking sounds on cognitive performance and annoyance perception, the effectiveness of a local personalised instead of a conventional centralised sound masking system, and the consideration of a control system to adjust the masking signal. A model is developed to predict the cognitive performance in distracting background speech. The application of this model can increase the cognitive performance and reduce the annoyance at the same time because the level of the masking sound is only set as high as necessary to provide a sound environment with sufficient speech privacy.