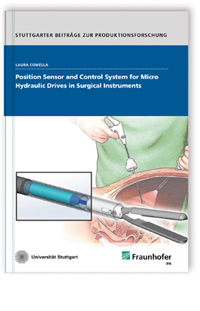 Position sensor and control system for micro hydraulic drives in surgical instruments
Stuttgarter Beiträge zur Produktionsforschung
, Band 97
Laura Maria Comella
Hrsg.: Fraunhofer IPA, Stuttgart
2020, 172 S., num., mostly col. illus. and tab., Softcover
Sprache: Englisch
Stuttgart, Univ., Diss., 2019
Fraunhofer Verlag
ISBN 978-3-8396-1550-8

kostenloser Download als PDF-Datei
Inhalt
Laparoscopy is a surgical technique performed in the abdomen through small incisions. At the current state of the art the surgeon is the one that controls constantly the movement of the instruments used for this procedure. His constant involvement implies the intensification of his fatigue.
To solve this problem and allow the further development of this surgical technique, in the vision of the author, instruments must become micromanipulators, which allow the accomplishment of preprogrammed tasks. This would reduce the surgeon fatigue as the surgeon is not actively involved in the control of the instruments movement all the time.
To achieve this goal a sensor system was developed, which is able to monitor the movement of the tip of a laparoscopic instrument continuously. This work focuses specifically on the research and development of a capacitive sensor system concept which is accurate and compact enough to be integrated on the tip of a laparoscopic instrument without changing its design.