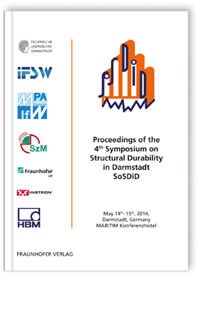 Proceedings of the 4th Symposium on Structural Durability in Darmstadt SoSDiD
May 14th-15th, 2014, Darmstadt, Germany, MARITIM Konferenzhotel
Hrsg.: J. Baumgartner, T. Melz; Fraunhofer-Institut für Betriebsfestigkeit und Systemzuverlässigkeit LBF, Darmstadt
2014, 290 S., num. col. illus. and tab., Softcover
Sprache: Englisch
Fraunhofer Verlag
ISBN 978-3-8396-0734-3
Inhalt
For more than a century, Darmstadt has been a centre of essential expertise in structural durability. Test and measurement equipment, computational methods and design philosophies have been developed. To illustrate the continuity of activities in this field several institutes and companies have grouped together to present the Symposium on Structural Durability in Darmstadt.
The symposium is organised by Fraunhofer Institute for Structural Durability and System Reliability (Fraunhofer LBF) / System Reliability and Machine Acoustics (SzM), State Materials Testing Institute / Chair and Institute for Materials Technology (MPA/IfW), Institute of Steel Construction and Materials Mechanics (IFSW), Instron. Structural Testing Systems GmbH (INSTRON), Hottinger Baldwin Messtechnik GmbH (HBM).
The objective of the Symposium on Structural Durability in Darmstadt (SoSDiD) is to present the current state of the art to the national and international fatigue community. Contributions have been gathered from German and international experts as well as Darmstadt research work in structural durability. The symposium is intended to supply a lively forum for discussing basic questions and current trends, bringing together scientists and engineers working in this field.
In the area of structural durability the main subjects in 2014 are welded and bolted joints, effects of corrosion, thermomechanical and low cycle fatigue, lightweight design as well as fatigue testing.