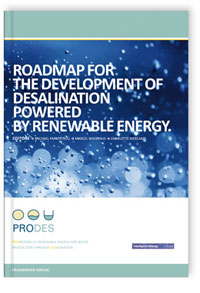 Roadmap for the Development of Desalination Powered by Renewable Energy
Promotion for Renewable Energy for Water Production through Desalination
Michael Papapetrou, Marcel Wieghaus, Charlotte Biercamp
Hrsg.: Fraunhofer ISE, Freiburg/Brsg.
2010, 79 S., num. mostly col. illus., Softcover
Sprache: Englisch
Fraunhofer Verlag
ISBN 978-3-8396-0147-1
Inhalt
The world water crisis is one of the largest public health issues of our time. One in eight people (884 million people) lack access to safe drinking water. The lack of clean, safe drinking water is estimated to kill almost 4,000 children per day. Many regions of the world are increasingly turning to desalination of brackish and sea water in their effort to match the increasing demand with the available natural resources. The trend is intensified by climate change, which seems to be already affecting the water cycle resulting in long periods of drought. The desalination industry has responded well to the increasing demand and is constantly evolving by reducing the costs and reliably producing water of very high quality. Most innovations focus on reducing the energy demand, since this is associated with high operating costs. However, desalination processes will always require considerable amounts of energy. If conventional energy sources are used, they contribute to climate change, which, in turn, affects the water cycle and intensifies the original problem that desalination was intending to solve.
For desalination to remain a viable option in a world with a changing climate, renewable energy sources have to be used to meet at least part of its power requirements. The scientific community has been working for decades on optimising technological combinations where the desalination process is powered directly by renewable sources; thermal energy, electricity or shaft power. The industry is also recognising the potential and various companies are active in this field.
The Roadmap ist the main outcome of the ProDes -Promotion of Renewable Energy for water production through desalination. It has been developed with input from various key actors from the industry and academia. This roadmap is intended to assist in coordinating and guiding the renewable energy-desalination community in overcoming the barriers they are currently facing.