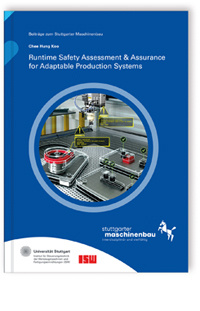 Runtime Safety Assessment & Assurance for Adaptable Production Systems
Beiträge zum Stuttgarter Maschinenbau
, Band 5
Chee Hung Koo
Hrsg.: Oliver Riedel, Alexander Verl, Andreas Wortmann; Universität Stuttgart, Institut für Steuerungstechnik der Werkzeugmaschinen und Fertigungseinrichtungen ISW
2022, 260 S., num., mostly col. illus. and tab., Softcover
Sprache: Englisch
Stuttgart, Univ., Diss., 2021
Fraunhofer Verlag
ISBN 978-3-8396-1811-0
Inhalt
The deployment of adaptable production systems based on Plug-and-Produce technology contributes to better responsiveness to satisfy changing production demands. From a safety point of view, this high adaptability poses a major challenge, as every previously unforeseen system configuration requires a new risk assessment to assure the system safety. However, the current industrial practices for safety assessment and assurance are mostly carried out manually. This leads to an increased personnel and monetary expenditure.
This dissertation presents an innovative software-based concept called AutoSafety to enable a software-assisted safety assessment at runtime (i.e. operational time). This concept utilizes digital twins, simulations, model-based risk assessment, and machine-to-machine communication in the context of Industry 4.0. The concept AutoSafety aims to provide support for the responsible persons to accelerate the commissioning of a newly configured system. In the context of a highly adaptable industrial scenario, AutoSafety offers a promising solution to enable industrialization, safety-compliant operations, and efficient applications of adaptable production systems.
* Alle Preise verstehen sich inkl. der gesetzlichen MwSt. Lieferung deutschlandweit und nach Österreich versandkostenfrei. Informationen über die Versandkosten ins Ausland finden Sie hier.