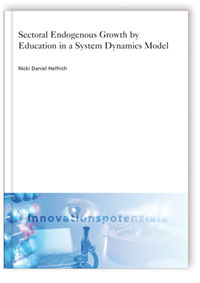 Sectoral Endogenous Growth by Education in a System Dynamics Model
ISI-Schriftenreihe Innovationspotenziale
Nicki Daniel Helfrich
Hrsg.: Fraunhofer ISI, Karlsruhe
2011, 278 S., num. illus. and tab., Softcover
Sprache: Englisch
Fraunhofer Verlag
ISBN 978-3-8396-0237-9

kostenloser Download als PDF-Datei
Inhalt
The effect of an increase of the education level of the population on innovation and economic growth is an important topic in current political discussions. This publication describes the results of a PhD-dissertation which quantifies the effect of education. The SEGESD model- Sectoral Endogenous Growth driven by Education in System Dynamics - was developed distinguishing 30 economic sectors in Germany. Increasing the spending for education is likely to result in a positive net effect. Women profit more than men from an increase in education spending. The higher the knowledge intensity of a sector, the higher the gains in additional gross output. In order to optimize growth effects, spending increases have to be introduced simultaneously in both medium and high level education programs.
The Fraunhofer ISI analyzes the framework conditions for innovations. We explore the short- and long-term developments of innovation processes and the societal impacts of new technologies and services. On this basis, we provide our clients from industry, politics and science with policy recommendations and perspectives for key decisions. Our expertise lies in a broad scientific competence as well as an inter-disciplinary and systemic research approach.
– –
* Alle Preise verstehen sich inkl. der gesetzlichen MwSt. Lieferung deutschlandweit und nach Österreich versandkostenfrei. Informationen über die Versandkosten ins Ausland finden Sie hier.