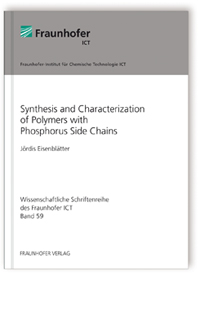 Synthesis and Characterization of Polymers with Phosphorus Side Chains
Wissenschaftliche Schriftenreihe des Fraunhofer ICT
, Band 59
Jördis Eisenblätter
Hrsg.: Fraunhofer ICT, Pfinztal
2014, 216 S., num., mostly col. tab. and illus., Softcover
Sprache: Englisch
Karlsruhe, Univ., Diss., 2013
Fraunhofer Verlag
ISBN 978-3-8396-0680-3
Inhalt
Polymers are flammable due to their carbon skeleton and must be equiped with flame retardants (FRs) before they can be used in applications, such as transport, building construction or electronic devices. In recent years, interest in phosphorus-containing FRs has increased significantly since they represent an environmentally friendly alternative to commonly used halogenated FRs.
In the current work, the development of novel (co)polymers with phosphorylated side chains via two controlled/living polymerization approaches (RAFT, anionic ROP) and their evaluation in terms of their FR potential are reported. In this context, various alkyne phosphoric esters and phosphorylated epoxy monomers are developed via novel synthetic routes.
To evaluate the FR potential of phosphoric esters bound to a polymer backbone, a selected polymeric FR is integrated via extrusion/molding and stirring into various polymer systems. The flame retardancy is determined using flame retardant tests on the laboratory scale (LOI, TGA). Polymer systems for the incorporation of the phosphorylated FR compound synthesized in the current work are determined.