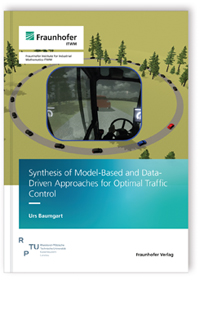 Synthesis of Model-Based and Data-Driven Approaches for Optimal Traffic Control
Urs Baumgart
Hrsg.: Fraunhofer ITWM
2023, 129 S., num., mostly col. illus. and tab., Softcover
Sprache: Englisch
Kaiserslautern, RPTU Kaiserslautern-Landau, Diss., 2023
Fraunhofer Verlag
ISBN 978-3-8396-1952-0

kostenloser Download als PDF-Datei
Inhalt
In view of steadily growing traffic flow and demand for mobility services, intelligent vehicles and traffic systems are becoming increasingly important. At the same time, today's vehicle technology and mobility infrastructure allow to collect and to transmit large and comprehensive data that may be used by complex driver assistance systems or (semi-) autonomous vehicles, as well as traffic light control systems.
This thesis therefore presents different model-based and data-driven approaches to optimally control traffic flow with the ultimate goal to combine them. Besides traffic light control, the main application scenario of this work is the design of intelligent (possibly autonomous) vehicle controllers to dissipate stop-and-go waves on highways or in city traffic. In this context, a controller is proposed that stabilizes traffic flow by combining theoretical guarantees of model-based control with real-time and generalization capability of data-driven control. The approach is validated and tested in different scenarios including experiments at a driving simulator.
* Alle Preise verstehen sich inkl. der gesetzlichen MwSt. Lieferung deutschlandweit und nach Österreich versandkostenfrei. Informationen über die Versandkosten ins Ausland finden Sie hier.