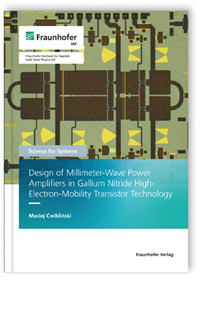 Design of Millimeter-Wave Power Amplifiers in Gallium Nitride High-Electron-Mobility Transistor Technology.
Science for Systems
, Band 59
Maciej Cwiklinski
Hrsg.: Fraunhofer IAF, Freiburg
2022, 208 S., num., mostly col. illus. and tab., Softcover
Sprache: Englisch
Freiburg, Univ., Diss., 2022
Fraunhofer Verlag
ISBN 978-3-8396-1867-7

kostenloser Download als PDF-Datei
Inhalt
Gallium nitride (GaN) high-electron-mobility transistor (HEMT) technology appears as an appealing candidate for supporting a variety of millimeter-wave (mm-wave) applications with its unique combination of simultaneous high-voltage and high-frequency operation. However, despite the rapid advance in GaN HEMT technology, the reported available gain of the devices is still limited at higher mm-wave frequencies in comparison to the competing high-speed semiconductor processes. This work investigates several approaches to enhance the performance of GaN-based circuits operating within the mm-wave spectrum. The main aim is to provide a set of design approaches and techniques to enable broadband operation of mm-wave GaN power amplifier monolithic microwave integrated circuits (MMICs), with a particular focus on frequencies close to and beyond the 100-GHz mark. In order to fulfill this goal, these approaches need to simultaneously target distinct design levels. Furthermore, implementing the concepts investigated in this work on circuit-level result in several MMICs providing state-of-the-art performance among GaN-based power amplifiers.