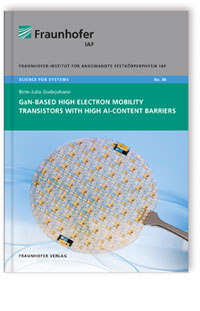 GaN-based High Electron Mobility Transistors with high Al-content barriers
Science for Systems
, Band 36
Birte-Julia Godejohann
Hrsg.: Oliver Ambacher; Fraunhofer IAF, Freiburg
2018, 156 S., num., mostly col. illus. and tab., Softcover
Sprache: Englisch
Freiburg, Univ., Diss., 2018
Fraunhofer Verlag
ISBN 978-3-8396-1340-5

kostenloser Download als PDF-Datei
Inhalt
In this work Gallium Nitride (GaN) based High Electron Mobility Transistors (HEMT) with ultra-thin AlN barriers are developed in order to realize high-frequency transistors and power amplifiers for millimeter-wave (mmW) applications. Epitaxy and fabrication of the AlN/GaN heterostructure at the beginning of the process chain form the basis for the performance of the devices. Highly-strained and extremely thin layers complicate growth, characterization and processing of the corresponding structures.
HEMT structures, grown by plasma-assisted molecular beam epitaxy as well as metal-organic chemical vapor deposition, are systematically compared. Structural and electrical differences resulting from the substantially different epitaxial techniques could be identified and analyzed in detail.br>Process development was performed for the epitaxially optimized AlN/GaN HEMT structures at the end. Successful fabrication of devices with ultra-thin barrier layers could be demonstrated and MMICs (Monolithic Microwave Integrated Circuit) could be processed on the developed epitaxy structures for frequencies in the range of 70 - 100 GHz.
– –
* Alle Preise verstehen sich inkl. der gesetzlichen MwSt. Lieferung deutschlandweit und nach Österreich versandkostenfrei. Informationen über die Versandkosten ins Ausland finden Sie hier.